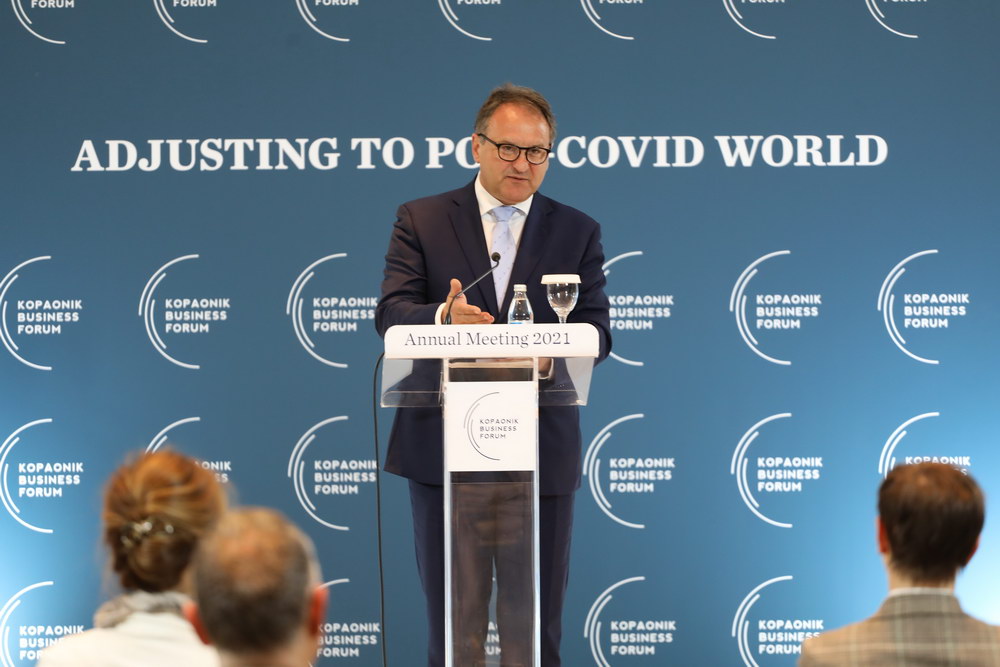 This year's Kopaonik Business Forum ended with the address of the Serbian Prime Minister, Ana Brnabić, and with the closing remarks of Aleksandar Vlahović, President of the Serbian Association of Economists.
Over the last twenty-eight years, we have strived and succeeded, with the help of you – participants and partners, sponsors and friends of this prestigious business event, to preserve the continuity of dialogue between renowned experts in the fields of economy and politics, and to justify once again, albeit in somewhat modified circumstances this year, our title of a national brand with strong regional visibility.
Despite the fact that the Forum was held on alternative dates, in a hybrid form and in a simulated environment, with limited number of persons present, we are proud of the exceptional interest of the business and professional circles and media for this important event. During the course of four days, the program was viewed in live stream on
YouTube
platform by approximately 4,000 people. This year's Forum included 22 panels, 5 plenary addresses and 2 special events regarding key economic, health and social challenges during and after the coronavirus pandemic, with participation of more than 130 renowned experts and eminent individuals from the domestic and regional business and political circles.
Kopaonik Business Forum has demonstrated once again that it is the most important regional conference, one that does not merely cover strictly economic topics, but also much wider issues concerning long-term social development. This year, special focus was placed on health issues, the situation in Serbian healthcare during the pandemic, scientific progress in healthcare and its contribution to improving the quality of personalized medical care in Serbia. The most relevant conclusions and recommendations of the four-day constructive work and discussion will be summarized in a document titled "Kopaonik Consensus" and forwarded to the relevant institutions and companies. This will be our contribution to designing feasible and efficient policies with the aim of continuing Serbia's economic transition in a faster and high-quality manner.
All photographs and video materials, news and press clippings are posted on our website
www.kopaonikbusinessforum.rs
, and a complete analysis of the media content is under way.
We hope that next year, Kopaonik Business Forum will again be a meeting place, a place of business networking and dialogue of all relevant stakeholders in economic and political life. We sincerely hope that we will reconvene with the highest attendance so far, on our traditional dates (from 6
th
to 9
th
March) at the Congress Center of Grand Hotel at Kopaonik.