29th Kopaonik Business Forum from 6th to 9th March at Kopaonik Central topic – Serbia 2030: The Sustainable Development Agenda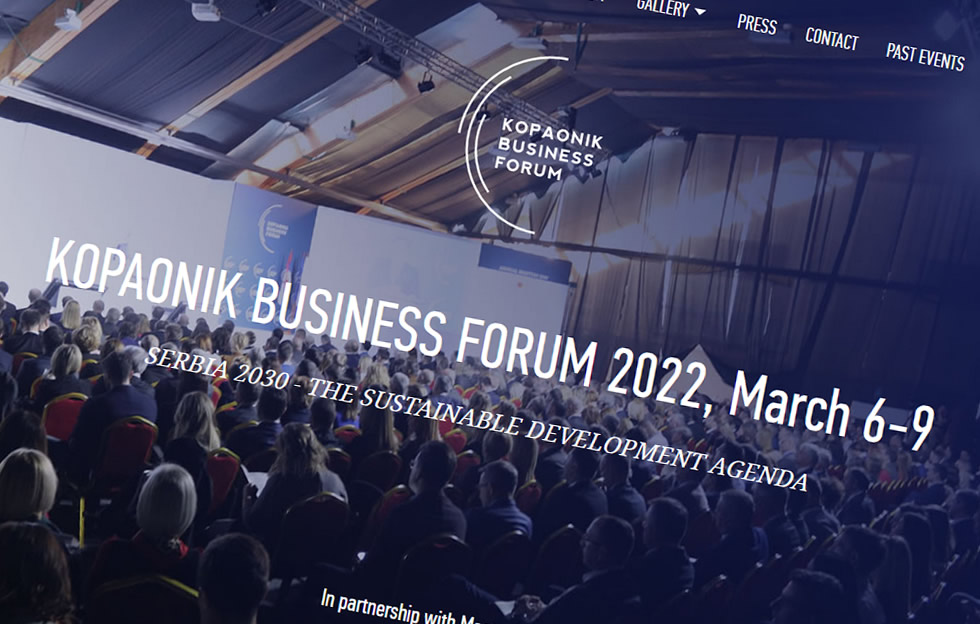 The forthcoming 29th Kopaonik Business Forum will be held from March 6 to 9, 2022 at the Congress Center of the Grand Hotel Kopaonik. The central topic will be "Serbia 2030: The Sustainable Development Agenda". The agenda includes 31 panel discussions on current issues in the field of social and economic development, education, health, social responsibility, sustainability and digitalization.
This largest economic event in the country will host three special guest speakers. Academician Vladimir Kostić, Professor and President of the Serbian Academy of Sciences and Arts will point out some critical factors in Serbia's future development. Mr. Carlos Alvarez Pereira, Member of the Club of Rome will talk about the World after COVID-19: In search of a new normal. Professor Branko Milanović, researcher and world-known accomplished author, will present an overview of global economic inequality. Registration of participants begins on January 10, 2022 through the web portal
www.kopaonikbusinessforum.rs
.
Day Zero, Sunday March 6
, is dedicated to macroeconomic analysis and prediction for the year 2022 for the Western Balkan region, as well as Serbia. Day Zero will be rounded up with the panel traditionally designated to the Digital Serbia Initiative.
Day One
,
Monday March 7,
is devoted to highlighting major economic and policy developments in Serbia and the region through keynote addresses by Serbian Governor of the Central Bank, and the Minister of Finance, followed by two Special Guest Speakers. Again, due to the COVID-19 pandemic, panel discussion will start with the analysis of public health sector and the impact of COVID-19 on sustainable health financing in Serbia. Day One will be saturated additionally with topical panels on: policy response to growing inequality, "battle" for talents, industry 4.0 and digital transformation challenges, geopolitical issues for the Western Balkan region, discussion of regional cooperation as a precondition for sustainable growth, an overview of the new inclusive growth initiative from the angle of domestic and foreign investors. Day One will conclude with crucial remarks on select chosen industry sectors and a panel on the quality of public dialogue.
Day Two, Tuesday March 8,
will start with a Keynote Speaker address and continue with panels on energy transition, WB connectivity agenda, green transition, agriculture sustainability issues, digitalization of public services, prioritizing environmental protection, embracing artificial intelligence, and adopting circular and law carbon economy rules. As in the previous years, two panels will be dedicated to banking sector consolidation issues and adjustment to new post-COVID-19 normality. Finally, Day Two discussions will highlight education as a critical factor for sustainable development. A separate panel will cover topical issues of corporate social responsibility (CSR), emphatic leadership, and philanthropy.
Day Three, Wednesday March 9,
will start with a plenary session with addresses from two speakers (on labor and public administration issues). Subsequent panels will address two important questions on youth expectations, and the renaissance of the health systems based on ensuing digitalization. The KBF will conclude with a plenary address by Prime Minister Ana Brnabić.
The Kopaonik Business Forum is organized by the Serbian Association of Economists and in partnership with Mastercard company. The Forum represents a unique interactive platform for the exchange of opinion, for well-argued and constructive debate while taking into consideration the key reform challenges from political and economic perspectives. The upcoming event is even more important because it will be a place where the results of our country's economic policies and progress in social development in the extremely complex times of the COVID-19 pandemic will be summed up.