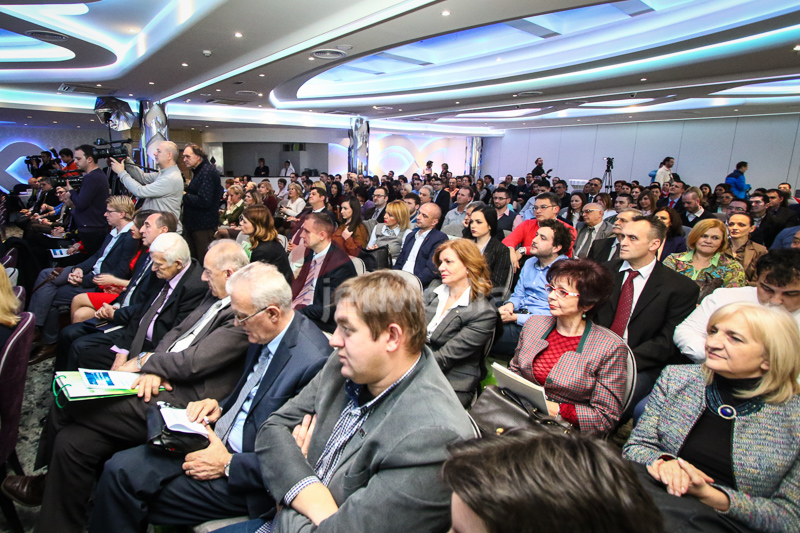 Organized by the Society of Economists of Kragujevac, their first Conference, titled "How to Encourage Entrepreneurship in Serbia" was held on February 3rd 2017 at the Ženeva Lux Hotel in Kragujevac. The Conference was attended by more than 200 participants from the real and financial sectors of the economy, as well as the most relevant representatives of the economic circles both from the region and national and international institutions. Participants of the Conference were also the Ambassador of Germany to Serbia Axel Dittmann, president of the Chamber of Commerce and Industry of Serbia Marko Čadež, president of the Serbian Fiscal Council Professor Pavle Petrović, Vice President of the Serbian National Assembly Veroljub Arsić, Chair of the Assembly's Committee on Finance Aleksandra Tomić, expert adviser of the European Bank for Reconstruction and Development (EBRD) for small enterprises Goran Radojević, acting director of the Chamber of Commerce and Industry of Serbia – Regional Chamber of Commerce Kragujevac Predrag Lučić, Mayor of Kragujevac Radomir Nikolić, director of the Kragujevac branch of the National Employment Service Gorica Bačanin, director of the Regional Economic Development Agency for Šumadija and Pomoravlje Nenad Popović, representative of the Business Innovation Center Kragujevac Ivan Marković, representatives of the local self-government of the City of Kragujevac, many businessmen and banking sector employees, as well as eminent professors of the Faculty of Economics of the University of Kragujevac.
The Conference was opened and moderated by Professor Petar Veselinović, President of the Society of Economists of Kragujevac and member of the Presidency of the Serbian Association of Economists.
The aim of this Conference was to identify the present state, trends and practical problems of developing the sector of small and medium-sized enterprises and entrepreneurs in Serbia as the main pillar of economic development, as well as to portray the Society of Economists of Kragujevac and all its members through a prism of active support to the development of the said sector. In addition to this, the Conference also served as a platform for business networking in the sense of creating new and reaffirming the existing contacts between representatives of the real and financial sectors of the economy.
During the Conference, certain conclusions were made that suggest unequivocally that development of private entrepreneurship should be the key element for developing Serbia's economy.
More information available at:
http://www.dek.rs/izvestaj-sa-konferencije-drustva-ekonomista-kragujevca/